Christmas is in the AIR
1st December 2021
Forget reindeers and Santa's sleigh, you're the one who can fly high this Christmas!
You thought Santa's sleigh travelled fast... iFLY Gift vouchers are guaranteed to arrive in time with instant delivery to your inbox.
This year we've packaged up our most popular products the iFLY Value and iFLY Basic into Christmas specials for two and they're selling like hotcakes!
iFLY Basic Christmas Special:
Two people will be blown away with two indoor skydiving flights each.
Gold Coast: $178
Save $20*
Sydney: $189
Save $49*
iFLY Value Christmas Special:
Deliver the ultimate experience and blown them away with two DOUBLE LENGTH flights each.
Gold Coast: $248
Save $40*
Sydney: $259
Save $59*
Buy Now Gold Coast
If you've ever needed a good reason to stop stressing about your imperfect wrapping skills (you're in good company, most of us dread the annual gift-wrapping mess too), this is it. You can head in store and we'll sort you out with a fancy iFLY Gift box for a bit of extra jazz!
You'll be able to kick your feet up knowing you've got just the thing to blow every other gift away. Sound Easy-Breezy right?
*Offer ends 25.12.21. Gift vouchers available with 3 years validity. All other standard T&C's apply.
Ps. You might even catch Santa and his elves brushing up on their flying skills at iFLY!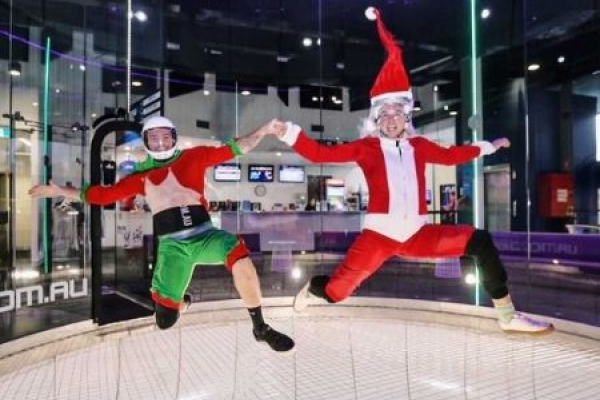 Back