Growing Old is Now a Thrill!
8th November 2019
Athletes in their 50s are competing in world championship sporting
events, style bloggers in their 60s are using fashion to break down age
barriers and grandparents in their 80s are thrillseeking.
for best friends Sylvia Johnson and Betty Ives, by doing something
they've wanted to do for more than 40 years.
Services' Zion Aged Care at
Nundah and bonded over their sense of adventure. Together, they
formed a wishlist of things they've always wanted to do as part of the
home's bucket-list initiative. Written at the top was skydiving.
They were little children with candy, so excited entering iFLY for an
indoor skydive! As they parked their walkers and shuffled their way to a
chair to pull on their jumpsuits, they're getting ready to take flight. They
both remember watching skydivers cascade through the sky over a
beach when they were in their 20s. It's been a dream of theirs ever
since. Now, at 90, it was finally Johnson's time (albeit indoors and with a
some support).
"It was amazing, I loved it … I feel pretty brave," she beams, having just
been shot up in a circular wind tunnel.
"I have some pain in my body but when I was up there, I felt none of
that, I was weightless." Ives smiles over at her friend, having had her
turn in the air, "that was fantastic, I've never experienced anything like
it", she says. "I've always looked at it but never thought I'd have the
chance to try it."
Finally doing something she's wanted to do for decades, it's given
Johnson a taste of the carefree life she's wanted for years and she
wants more.

"Now I want to parachute from an aeroplane, maybe near Uluru or
somewhere like that, I think that would be a thrill," she grins.
Nir Davidson from iFLY says "The best part is anyone from 3 to 103 can
fly at iFLY.
The goal of iFLY is to get people of all ages and abilities up
in the air and having a great time, including those who may be unable
to participate in traditional skydiving.

"We've had schools coming in for unique science excursions, hen's and
buck's parties, corporate events, and children's birthday parties, but
mostly it's parents looking for a novel experience for their kids.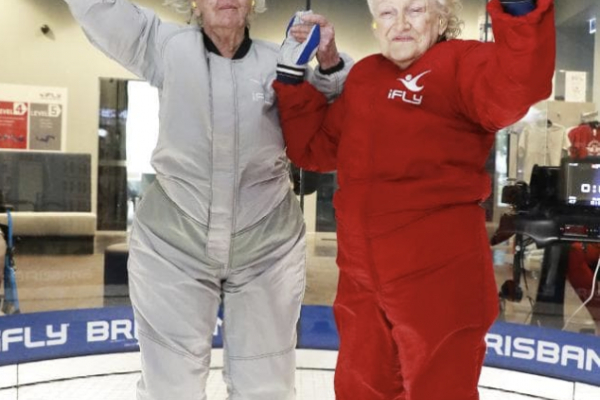 Back