10 reasons to fly this weekend
26th November 2019
10 REASONS TO FLY THIS WEEKEND
1. IF YOU'RE SCARED OF HEIGHTS!
Lots of folks decide to fly in the iFLY wind tunnel instead of skydiving because the idea of putting on a parachute and getting out of a plane is just, well, a non-starter. If serious acrophobia is part of your reality, don't fight it! Fly the tubular skies instead.
2. IF YOU'RE LOOKING FOR A FAMILY FRIENDLY ACTIVITY
Anyone can fly aged 3 to 103, so the wind tunnel is something the whole family can do. Bring the toddlers; bring grandma – everyone's invited! This'll be a family reunion for the history books.
3. IF YOU WANT TO BURN A FEW CALORIES
Flying in the tunnel can be challenging psychically, engaging your core is a must. In about a 26 minute flight session for a first timer, you're going to burn up to about 300 calories and get a full body workout. You'd only burn around 200 calories jogging for the same amount of time.
4. IF YOU WANT TO STEP OUT OF YOUR COMFORT ZONE
Tunnel flying is an incredibly unique experience. It's indescribable and something that will challenge you in your day-to-day life.
5. IF YOU'RE LOOKING FOR A UNIQUE DATE NIGHT
Forget dinner and movie, what about going flying for your first date? We even host Tinder Tuesday's at our Brisbane tunnel for first time flyers!
6. IF YOU'RE STRESSED
Who isn't stressed and tied to a screen these days? Nothing gets you focused in the moment like human flight, and your daily frustrations won't be able to hang on in the force of that wind. Blow them off! Get some air.
7. IF YOU LIKE FUN.
We love fun! And we want to show you our favourite kind of fun, which is making pretty shapes in the indoor skydiving wind tunnel. Let's get you suited up and teach you how to fly!
8. IF YOU'RE LOOKING FOR MENTAL REJUVINATION
A lot of adrenaline is built up in the anticipation while waiting and then as soon as you get in you feel the wind on your body and you start to really feel what it's like to fly. That feeling can replenish your mind and energy.
9. IF YOU WANT A GUILT-FREE RISK
If you're a parent, adventure and risk-taking can weigh on you. Indoor Skydiving is a lot safer which means way less guilt for trying it. And you still get to feel what it's like to fly!
10. IF YOU'RE LOOKING FOR A GREAT STEPPING STONE INTO SKYDIVING FROM A PLANE
On the other hand — if you're into the idea of skydiving but you want to test the waters first, the wind tunnel is also a great idea. Modern solo skydiving training programs use the wind tunnel to bolster training so this will help you prepare!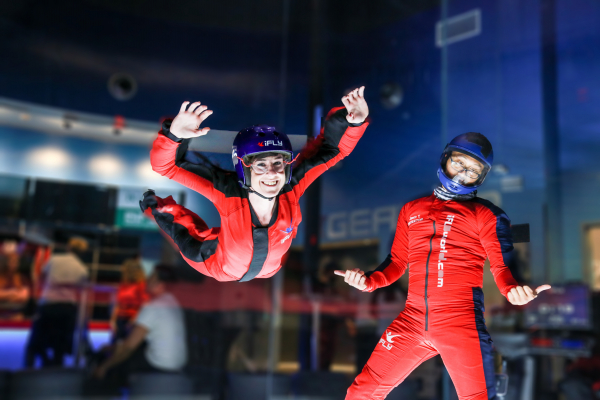 Back